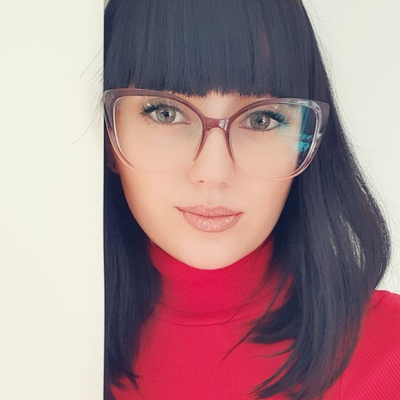 Despre stefania olteanu:
I am a motivated UI/UX Designer with coding skills capable of taking a project from start to completion. I have actively contributed to various aspects of the design process, including user research, prototyping, and interaction design. I have had the opportunity to create personas, user stories, and user flows, as well as craft wireframes, mockups, and prototypes to effectively convey design concepts. Actively participating in usability tests and feedback evaluations, I continuously refine designs to meet user expectations. I collaborate seamlessly with cross-functional teams to effectively communicate design ideas and develop solutions. 
Experiență
FREELANCER
UX/UI Designer & Web Developer - 2020 - Present
・ Crafted wireframes, prototypes, and mockups.
・ Developed illustrations like icons, logos, and characters.
・ Tested, redesigned, and gave feedback on websites.
・ Coded responsive and interactive websites.
・ Implemented SEO best practices.
RISTA 
UI & UX DESIGNER - Aug 2021 - Jan 2022
・ Led UI/UX development initiatives.
・ Translated concepts into intuitive user interfaces.
・ Redesigned user flows for onboarding, sign-up, and sign-in processes.
・ Created illustrations, icons, and two characters.
・ Redesigned the mobile app, and designed new features.
・ Performed user tests and analyzed data.
IDA INSTITUTE
GRAPHIC DESIGNER - Jun 2021 - Oct 2021
・ Created tailored illustrations for SoMe platforms.
・ Designed infographics that transformed complex information into easily understandable visuals.
・ Developed PowerPoint presentations for internal and external communication needs.
MEEW
FULL STACK DEVELOPER - May 2021 - Jun 2021
・ Developed and programmed Meew's systems.
・ Frontend and backend development.
ENTROPYFOX
FRONT-END DEVELOPER - Oct 2020 - Nov 2020
・ Created mockups ensuring alignment with client expectations.
・ Translated concepts into responsive and functional web interfaces using HTML, CSS, and JS.
・ Collaborated with the key client from the first week.
Educație
KEA - WEB DEVELOPMENT BACHELOR - 2020 - 2022 
・ Web Development: HTML, CSS, JS, PHP, APIs
・ Design and develop relational and NoSQL databases
・ UX & UI: design techniques and principles
・ Development Environments: Learn to select the 'tech stacks' and manage the various quality processes
・ Security in web development

KEA - MULTIMEDIA DESIGN AP DEGREE - 2018 - 2020 
・ Learn to apply theory and methods relevant to the analysis, ideation, design, planning, realization, and management of multimedia tasks
・ HTML, CSS, JS, UI/UX, Graphic Design, SEO
 
Profesioniștii care concurează cu stefania
Profesioniști din același sector Tehnologie / Internet ca și stefania olteanu
Profesioniști din diferite sectoare în vecinătatea Cotroceni, Municipiul Bucureşti
Locuri de muncă în apropiere de Cotroceni, Municipiul Bucureşti
---

HEAD INNOVATION AGENCY SRL

Bucharest, România

Full time

Căutăm coleg sau colega UI/UX Designer, mediu - avansat. · Dacă ai cel puțin un 3 ani de experiență în domeniul de UI/UX Design, in agenție sau intr-un mediu similar și stii sa reprezinti un concept d ...

---

RENOVATIO TRADING SRL

Bucharest, România

Full time

Responsabilitati: · • Implementarea functionalitatilor customizate folosind PHP, MySQL, JavaScript, HTML, CSS3, REST API si librarii/unelte moderne asociate; · • Participarea la discutii de analiza (b ...

---

Clario Oftalmologie

Bucharest, România

Full time

Clinica Clario Oftalmologie angajează Senior Front Desk Officer · Responsabilități:- Gestionarea programărilor pacienților: primirea/efectuarea de apeluri telefonice sau comunicarea prin canale onlin ...