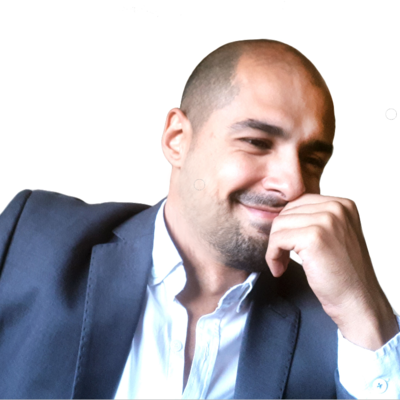 Despre Elia Haidar:
Elia is a dedicated ESL teacher who has changed the life trajectory of hundreds of students. He is professional, meticulous and open to exploring new career paths in Romania.
Experiență
(Jan 2022-May 2023) 
Literacy Teacher - Department of Education and Knowledge - ADEK · Full-time Abu Dhabi, UAE 
▪ My role as a member of Matrix One LLC Literacy Intervention Team is to deliver in-school literacy Intervention and work under the supervision of ADEK Project team in Mubarak bin Mohammed and Abdulla Bin Otaiba Charter Schools. 
▪ Give a reliable, comprehensive and accurate assessment of text reading for 2nd, 3rd, 4th and 5th graders to gain a thorough evaluation of a student's reading ability using Teachers Collage Reading & Writing Assessments and Running Records and books. 
▪ Accelerate closing the performance gap for Charter Schools students who are falling behind their grade level by providing tailored small group tutoring sessions, catering to students' individual needs.
 ▪ Meet or exceed the achievement of the projected growth goals based on the NWEA MAP Assessment for each participating student through the utilization of Individualized Development Plans.
(2022 – 2020)
English as a foreign language (EFL) teacher at the British Honorary Consulate. The British Honorary Consulate, Syria
Reference: Mr Bassam Albany - Consul 
▪ I used a range of course books and materials, along with a variety of audio-visual aids, to encourage students to communicate with each other using the target language. 
▪ I provided educational assistance, in accordance with college students' academic requirements and language level, to help students attain the English language (reading, writing, listening comprehension and speaking) skills which will equip them to follow their particular academic interests. 
(2016- 2020) EFL Teacher and Educational consultant at ETC Language Centre ETC, Latakia, Syria, 
Facebook Page: ETC Syria 
▪ I provided comprehensive instruction to enable college-students at all language levels to acquire English easily and effortlessly. I prepared students to be able to do the IELTS tests with confidence.
▪ I provided frequent one-on-one speaking practice sessions for senior professors (mainly in charge of International academic relations at their universities) to facilitate their use of English as a natural medium of communication for the maintenance of academic international relations and to gain exposure to the latest in their fields. I taught CEFR Levels A2, B1, B2, and C1. 
▪ I worked closely with the Recruitment Supervisor supporting them in the management of their caseload of teaching position seekers; providing assistance and support throughout all stages of the recruitment process 
▪ I trained and communicated clearly and effectively with trainees across multiple platforms including but not limited to telephone, web cam, emails, and face-to-face. 
(2015 – 2016)
ESL Teacher at (Linguaphone) Institution branch in Latakia Linguaphone, Latakia, Syria 
▪I made sure our clients understood how to use Linguaphone text books and audio material (mainly in accordance with the audio-lingual method of teaching in addition to using English directly in most cases as our basic medium for communication). CEFR Levels: A1, A2, B1, B2.  
(2016 – 2019)
Volunteer with Peace Makers Organization as a musician Peace Makers Organization, Latakia, Syria
 ▪ I played clarinet with the band Terhal at charity handcraft exhibitions organized by Peace Makers Organization in old Damascus and other war-torn towns throughout Syria. 
Educație
Master's degree in British Cultural Studies (2023) 
Faculty of Foreign Languages and Literatures at the University of Bucharest.
 I am currently studying for a master's degree in British cultural studies at the UB.
Bachelor of Literature Degree, Department of Translation (2019) Faculty of Arts and Humanities, Tishreen University, Latakia, Syria 
A brief course description of the main courses we studied at the program: 
▪ A through approach taking semantics, syntax, phonology, and pragmatics into consideration. 
▪ The study of speech sounds used in the production of English language. 
▪ Sound to symbol as well as development of transcription speed and accuracy, anatomy and physiology of speech.
 ▪ A significant amount of practice in written English, paraphrasing and summarizing. 
▪ The translation of political, journalistic, commercial, legal, medical and scientific texts 
▪ Practical skills in simultaneous interpreting from English 
▪ Major language learning and acquisition theories. 
Related Documents: Graduation Certificate Academic Transcripts Recommendation Letter Course Description
(2015) International Teaching English as Foreign Language Certificate By International TEFL and TESOL Training© teflcourse.net 
The ITTT 120-hour course provided an internationally recognized TESOL certification to teach English as a foreign language. The certificate is accepted by the vast majority of employers all around the world. The high quality TEFL course includes a number of essential topics: 
• The theory of language teaching, teaching methodologies and approaches, classroom management techniques, lesson planning and student evaluation, as well as a range of grammar subjects (pronunciation, Phonology, essay writing). 
• Using a wide variety of course materials, the course also included Learning through play, a term used in education and psychology to describe how a child can learn a language to make sense of the world around them. Through play children can develop social, linguistic and cognitive skills, mature emotionally, and gain the self-confidence required to engage in new experiences and environments. 
Related Documents: International TEFL and TESOL Certificate in teaching English as a foreign Language
 (2004-2010) Proficient user of English British Honorary Consulate
 Latakia, Syria
▪ I attended English classes that were mainly aimed at the practical use of English. The teachers were English native speakers from Britain and Canada, and students were expected to actively participate in lessons and interact with each other only in English. This course provided me with over 500 hours of English practice in a simulated 'immersion' environment.
 Related Documents: IELTS
Profesioniștii care concurează cu Elia
Profesioniști din același sector Educație / Formare profesională ca și Elia Haidar
Profesioniști din diferite sectoare în vecinătatea Bucharest, Municipiul Bucureşti
Locuri de muncă în apropiere de Bucharest, Municipiul Bucureşti
---

Studio 20

Bucharest, România

Full time

Candidatul dorit: · Facultatea de Limbi si Literaturi Straine absolvita · Persoana deschisa si comunicativa · Experienta in sistemul de educatie privata, in special British si American, reprezinta un ...

---

PROHUMAN APT SRL

Bucharest, România

Full time

Alatura-te unei echipe dinamice intr-un rol de Dealer Casino cu limba engleza sau italiana. · Ce trebuie sa faci: · sa prezinti jocurile intr-o maniera profesionala · sa comunici cu jucatorii online i ...

---

PRO BRANDS DISTRIBUTION S.R.L.

Bucharest, România

Full time

Economist contabil · Compania noastră caută un economist contabil cu experiență pentru a se alătura echipei noastre. · Tipul contractului: perioada nedeterminata cu perioada de proba de 3 luni · Loca ...